Achieve the maximum ROI
At eMail Networks we have a dedicated creative design department that works with you on an individual level. Our creative team's expertise in email and landing page design means customized campaigns to fit your audience's needs. We'll save you time, money, and resources by taking the load off your team—and in some cases, save you the cost of another employee.
Let Email Marketing Professionals Handle the Work for You
Your brand identity is what subscribers and customers remember first. Email Networks offers custom email template creation, allowing you to trust the professionals with creating a unique, branded template that reflects your company and keeps your branding consistent from your website to your email marketing campaigns.
Our extensive experience in email and landing page design is what allows us to take a comprehensive view of your past email marketing efforts and provide creative strategy and campaign planning that we're confident will improve performance to drive new and repeat business. From recommending perfectly mobile scalable email to suggesting a bolder, attention grabbing design, our creative audit will identify methods to improve the customer experience and increase conversion.
You will always have access to the White Cloud Marketing Suite and have the ability to make content changes on your own.
It's simple, really. We do the work for you.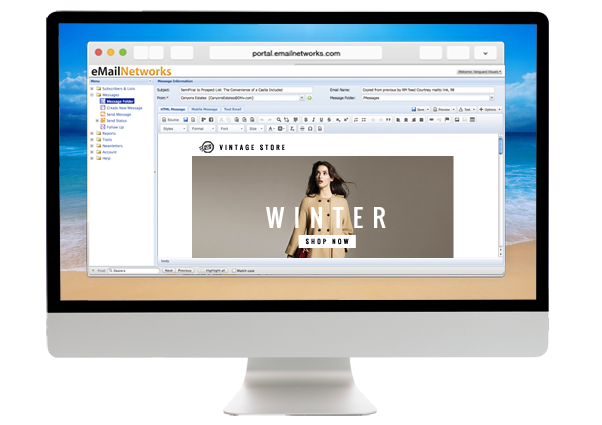 Many businesses simply don't have the staff, time, resources, or expertise to handle the full extent of their email marketing needs. If this sounds like you, Email Networks offers a turn-key managed services solution to get you and keep you on track in your email marketing campaigns.